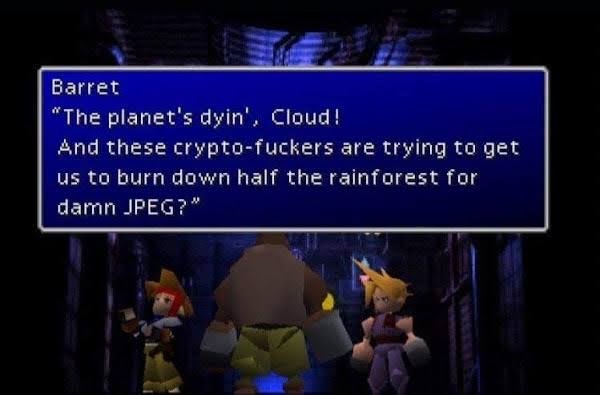 Recently, Square Enix sold off some of its most high profile western studios and IPs, including Tomb Raider and Deus Ex, to accrue money to invest in future projects, including blockchain and NFTs. Since then, the crypto and NFT markets have been crashing, so Square Enix reconsidered slightly, confirming other plans to invest further in other western studios and IP. Still, the higher-ups at the company seem to be enamoured by the allure of the blockchain movement. 
During Square Enix's recent shareholders meeting (via Siliconera and Michsuzuki), the company confirmed that it is still interested in NFTs and incorporating blockchain into games. Much to the displeasure of long-time fans of these franchises, both Dragon Quest and Final Fantasy were brought up as franchises that could incorporate these technologies.
Exactly what a 'blockchain based' Final Fantasy or Dragon Quest would look like remains to be seen. While we would like to assume NFTs would be limited to cosmetic items only, there is some talk of using NFTs to grant new story content to players, so NFTs could end up being used the exact same way as an activation key for DLC. Whether or not Square Enix will go all-in and embrace crypto currencies and NFT trading platforms is still TBD.
Square Enix is one of several major publishers exploring blockchain and NFTs for future games, following in the footsteps of Ubisoft, the first major publisher to truly embrace blockchain and NFTs with its Quartz platform, which will see further integration in new games in the future.
KitGuru Says: This sounds like a quick way to burn long-time fans of two of the most beloved IP in gaming history.