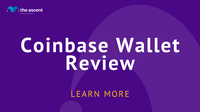 Coinbase Wallet is a non-custodial digital wallet that uses hot storage, meaning it's connected to the internet. It's offered by the Coinbase crypto exchange, which is known for having high security standards. You don't need to be a Coinbase customer to use this wallet, as it's available free of charge to anyone.
Top perks
User friendly
Coinbase Wallet makes it easy for anyone to safely store cryptocurrency. Just like the Coinbase exchange, this hot wallet has a user-friendly interface. It doesn't take long to set up your wallet and start bringing over your crypto assets.
Free crypto wallet
This cryptocurrency wallet is free to download and use, whether you're a Coinbase user or not. It doesn't charge fees for digital asset storage. Note that there are transaction fees for sending and receiving cryptocurrency. These fees are charged by the cryptocurrency's blockchain to pay transaction validators.
Connects with Coinbase
You can link your Coinbase account to Coinbase Wallet in your wallet settings. If you do, you can quickly transfer over crypto assets on Coinbase to your Coinbase Wallet. This makes Coinbase Wallet the most convenient wallet option for the exchange's customers.
Supports hundreds of thousands of cryptocurrencies
For those with a diverse crypto portfolio, it's nice to store everything in one place. Coinbase Wallet supports quite a few different types of cryptocurrency, including all ERC-20 tokens and tokens on EVM-compatible blockchains.
NFT storage
In addition to cryptocurrencies, Coinbase Wallet also supports non-fungible tokens (NFTs). If you're interested in starting your own NFT collection, you can buy them from NFT marketplaces and store them in your Coinbase Wallet.
RELATED: Best NFT Marketplaces
dApp browser
Coinbase Wallet has a built-in browser for decentralized apps (dApps). You can use it to explore all kinds of dApps, including decentralized crypto exchanges, crypto lending platforms, games, and digital collectibles.
What could be improved
No cold storage
Since Coinbase Wallet is a digital wallet, it uses hot storage. This refers to crypto storage that is connected to the internet. The most secure type of storage is cold crypto storage, which is when you store it offline, normally in a hardware wallet. To be fair, Coinbase Wallet is still a great choice in terms of security, and hot wallets tend to be easier to use than cold wallets.
LEARN MORE: What Is Cold Storage in Crypto?
Limited browser compatibility
Coinbase Wallet is available as an app or a browser extension with Google Chrome. Some people like having their crypto wallets available in their browsers, so it'd be helpful if Coinbase Wallet was available in more than one.